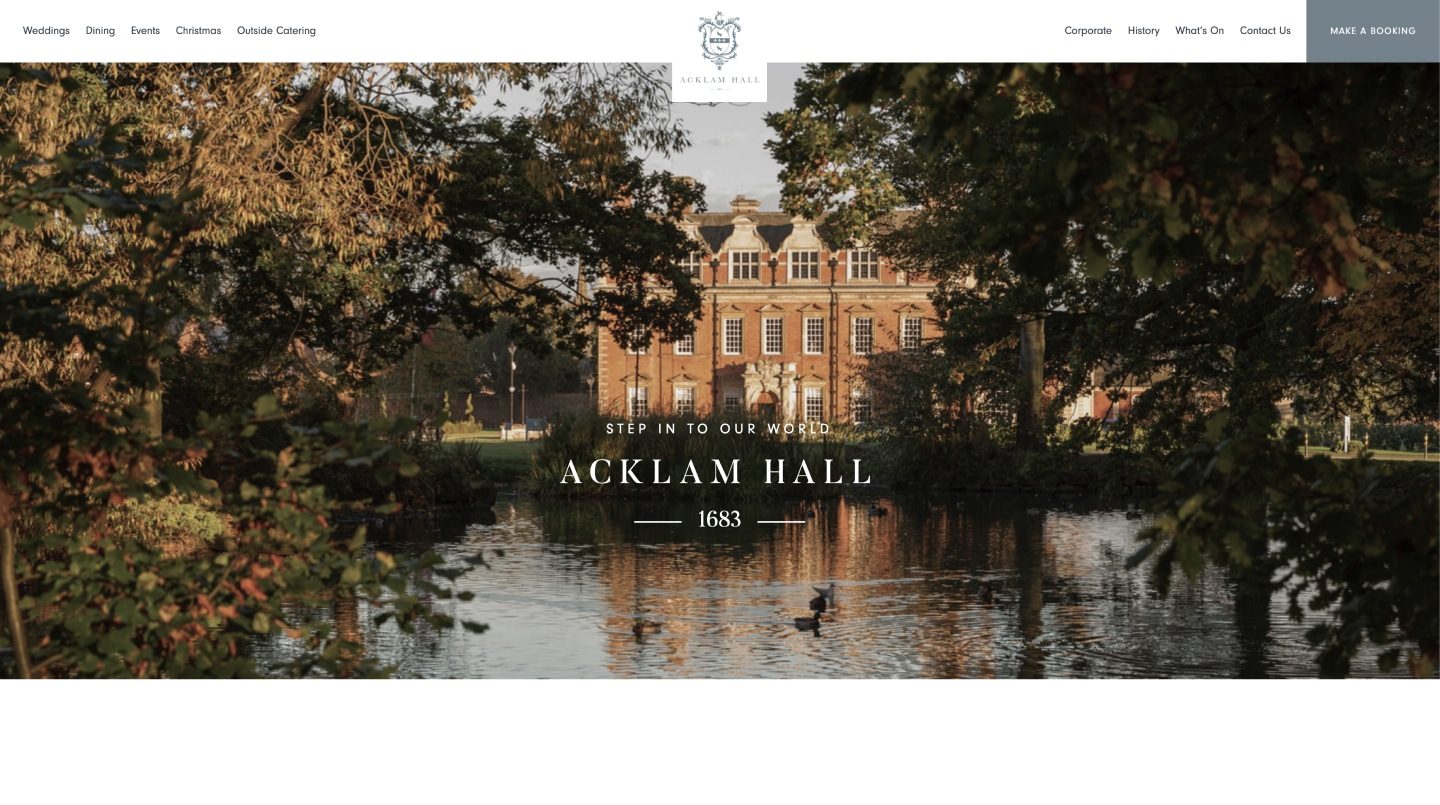 When looking to refresh their current website and boost their presence online, Acklam Hall, a historic listed building and wedding venue in Middlesbrough, sought the help of Outrank. At Outrank, we provide the full package – specialist web design as well as an expert search engine optimisation team to take your business further on the web. 
The Challenge – Taking a Historic Grade I Listed Building Online
As a historic Grade I Listed Building in Middlesbrough, Acklam Hall underwent a thorough restoration in 2008 and is now considered as one of the North East's finest wedding venues. After the launch of the new event's venue and restaurant in 2016, the Acklam Hall team were keen to showcase the venue to new customers in Middlesbrough and across the North East. The current website was fairly basic and didn't portray the newly refurbished building's character and charm, after speaking to one of the account managers, it was decided that we would design and create a brand new website that incorporated Acklam Hall's history and heritage as well as the range of services they offer.  
Located in Middlesbrough, this traditional and classic style building is home to The Brierley, an award-winning restaurant that also offers private dining, as well as a venue perfect for weddings, civil ceremonies and many other special occasions. Acklam Hall also offers serviced offices and meeting rooms for corporate events and networking. With such a unique building and broad range of services, it was important that the new website included all of these service area, while still maintaining a luxurious and modern feel.
The Solution – Bespoke Website Design, Development and Content Optimisation
As well as the process of the design and development of the new site, all website content for Acklam Hall would be written and optimised by our SEO team. We worked closely alongside Acklam Hall's director Michael, time was spent researching the client and getting a feel for the brand they wanted to portray. With this being such a great opportunity to create and build a truly unique website and provide optimised content and branding for such a locally renowned wedding venue and restaurant, our team worked together in order to explore all avenues and ensure we came up with the right online solution. 
Acklam Hall's branding was heavily incorporated into the website build and content optimisation, from fonts, styling, colours, images, tone of voice and wording, it was essential that as well as providing responsive design and user friendly development features, the brand and Acklam Hall's identity was still prevalent throughout the site. 
As Acklam Hall's building itself is mainly a venue, it was very visual project, so imagery was extremely important throughout the website build and design. Each service section on the site aims to take you on a 'virtual journey' through a range of photographs of each room in the hall, so whilst you're online in front of your computer, you can feel as though you're there at Acklam Hall, planning your wedding, celebration or taking a look inside the restaurant.  
Another must for the website was a contact form, the nature of Acklam Hall and it's services is something that in the majority of situations, will require a visit. An online contact form allows customers and clients to get in touch with Acklam Hall and request a call back from their professional team, who can help to take the enquiry further via a phone call or meeting. The overall design of the site was extremely important as well as being visual, customers' require a friendly site that's not complicated to use and includes call to actions to encourage enquiries, as well as supporting strong Google rankings.
The website's content was written by our SEO team who worked closely alongside Michael over a number of months, ensuring that the content portrays the right message and was reflective of the Acklam Hall, it's history and the services they offer.  
The Results – Stunning Imagery, Engaging Content and Responsive Design
The new website is very visual which helps to showcase the character and charm of Acklam Hall while providing information on the venue hire and services that the hall provides. With sections dedicated to dining, weddings, events and corporate services, as a user, navigation around the site is easy. The sites design is stunning yet simple and provides striking images which encourages users to click and browse further into the site, helping to focus on new business and prospective clients. Having achieved a professional and luxury looking site that works, it was time to move on to the next part of the project, the website's SEO. Now Acklam Hall has a brand new website that demonstrates the charm of its elegant and classic building, it was time to maximise their presence online through search engine optimisation. 
SEO Campaign
With a fully functional and perfectly designed website, the SEO campaign was focused on boosting online presence and reinforcing Acklam Hall's distinct branding. In-depth keyword research allowed us to understand what services and locations we should target. We put together a straight forward plan, this included optimising the homepage and main service pages – weddings, restaurant and serviced offices.
As Acklam Hall's restaurant, The Brierley, can be considered separate from the venue hire services, we also provided search optimisation for services that it provides  including 'Sunday lunch' and 'afternoon tea', ensuring that we'd covered all areas. This ensured that we got the website in front of a wider audience, increasing traffic and brand awareness.
The Impact
The aim of the Acklam Hall website was to increase brand awareness and grow their online presence. A close working relationship, allowed us to fully understand their business, which gave us a greater advantage online. We took the challenge Acklam Hall gave us and achieved what was desired. We still work closely with Michael and his team, to keep pushing his SEO campaign. Acklam Hall is a well-known destination of choice and working together has helped both of us grow and go further together. If you have a project that we could work on together, then don't hesitate to get in touch with us.